03/03


Wednesday, March 26, 2003



Fox News is astounding. As is CNN. As is Entertainment Tonight. As are all the other media outlets providing endless coverage of the invasion of Iraq. And I'm guessing that Leni Riefenstahl is on the payroll at most of the major networks, because it's such remarkable propaganda to watch.

And speaking of current events, the Oscars were, of course, amazing. Though, I have to disagree with Jol's stance on Halle Berry. She was, in fact, the chocolate love for the night -- sexualized by all! The way they were treating her throughout the night (i.e., Steve Martin's sex jokes, Adrian Brody's sexual assault and lewd gift-basket comment) I thought someone was going to announce that Warren Beatty had her pinned her down in the Kodak Theater's basement, where guests could anally rape her after the show. The poor thing! She was used like a hole in front of a worldwide audience. And would they have treated another "lovely" Oscar winning actress -- like, say, porcelain doll Gwyneth Paltrow, or diaphanous Angelina Jolie -- like that? No. Never.

Oh yeah, Halle was the ebony, free-for-all gang-bang of the night. They gave her an Oscar, so it's payback time. Lord. I'm disgusted and feel sorry for her. And I wish she would have had the backbone to say something; or punch Adrian Brody's gargantuan, thin nose; or pull a switchblade on Steve Martin. That would have been cool. "Who's your black bitch now, you mofo bitch!"

And I heard that a stagehand had to be called in to mop up the jiz left on stage by Michael Moore. Ew.

Chicago, by the way, deserved to win Best Picture. Yes huh. And all of you who think otherwise are only fooling yourselves, or retarded, or both.

bk





Friday, March 21, 2003



Look below! I finally made it into the local press! I'm still in a state of shock. A Chronicle photographer -- who, by the way, can almost always be found stalking me -- snapped this of me being blocked by protestors yesterday morning en route to work. The nerve! And I said to my driver, "plough on through, like you're mowing down a corn field!" But he wouldn't hear of it.

What really hurts, though, is what these two brutes used to trap me! Ugh. It's like rain on my same-sex union day...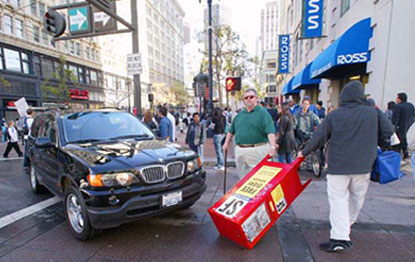 damning evidence



bk





Thursday, March 20, 2003



I think I'm suffering from severe arrested development. The symptoms? I'm sitting in front of my computer, listening to Christina Aguilara's Beautiful on a loop; the only glint of San Francisco's chaotic, navel-gazing protests to catch my eye are the helicopters up above, reminding me of Los Angeles, and how I much I wish I were there instead of here right now; and excessive use of a new conditioner. Really. If I still ate cereal, I'd be pouring too much sugar on it while my mother wasn't looking. I'd be eating a bootleg fun-size bag of Cheetos hidden inside my school desk. And I'm wobbling on the edge of drinking a can of Mountain Dew. Wah.

Aside: I was just listening to KGO 810 Talk Radio, and this lady caller came on in support of The War. Best part -- she also admitted to being on vicodin, chloroprene, and xanax for backpain. All three. I'm not fucking kidding. Really, she's the luckiest girl in the whole wide world tonight.

bk




Monday, March 17, 2003



It's St. Patrick's Day, and I plan on milking the red-head angle tonight, at various bars and clubs, for all it's worth.

So, I ran into an old chum from the alma mater while sampling at the Kiehl's store in Pacific Heights. As it turns out, she works there now, so I walked out with a bag full of products -- free products, that is. And I just love free stuff. No, wait -- I just need free stuff. Always have, always will. And people seem to want me to have stuff for free, so who am I to shy away from other people's benevolence? That would be downright rude. I can't help it if the masses need me looking, smelling good.

Update on the ever updating facial moisturizer: the new stuff contains tomato extract and beta-carotene.

(note to md: as always, nice to have you back.)

bk





Thursday, March 7, 2003



Since the country is kneeling down on that chalky starting line of war, I think it's time Bean Tails took a stance on what's afoot: I think Ari Fleischer is, well, super cute; in fact, I think he's sexually desirable, hot. (If you don't believe me, take a look at this.) I know. And I'm not even trying to be flip about this, because it's been bothering me as of late, but -- sigh. I guess it's the perverse Jewish-Republican thing that's giving me hot flashes. So bad. Or maybe it's those brown, brooding eyes of his that make me all daydreamy. So dark. Ultimately, though, it's a power thing. Put him in a pair of chaps and in the driver's seat of a Mazda Miata, and I wouldn't look twice. But stick the man behind a podium with official White House signage, and -- wow.

Where are my morals? Where's my overriding stance of pacifism? Am I really that shallow? Leading a sexless life does do strange things to a lad.

And speaking of being shallow, the first ingredient in my new facial moisturizer is -- wait for it -- steam distilled water. Like, what in the hell is steam distilled water? Does it even matter? No, because it's just that cool, and necessary. My new moisturizer also contains grapeseed oil -- grapeseed oil! I don't know how I was living day-to-day without smearing grapeseed oil on my face and neck every morning.

I just love labels. Really, I should be a marketing writer, writing prose on facial serum and nighttime rejuvenator packaging. I could work wonders with organic aqueous extracts as my muse.

bk





Wednesday, March 6, 2003



Happy Ash Wednesday! Let's hear it for the Catholics!

I'm over the Jews. Catholicism is the new Judaism, I declare, so put away that dusty copy of the Kabbalah and your chocolate-gold coins, and break open a gilded New Testament plus a jar of shame. Really, they need our support now more than ever. Does the power of Christ compel you?

Not that I even know (or inevitably care) who reads what in which faith. And for someone who studied literature, that's kind of sad. But I have ways to go in paying back my massive, massive student loans, so the learning can continue. See -- depending on the perspective, not so sad after all.

Oh, and in case you've been wondering where I've been: lots of good television is on. I'm watching most of the reality shows, expect the ones with overlap. (Alas, no TiVo. Not yet.) And this behavior will continue until the finale of Big Brother 4, which I can't even talk about without peeing in my boxers.

bk