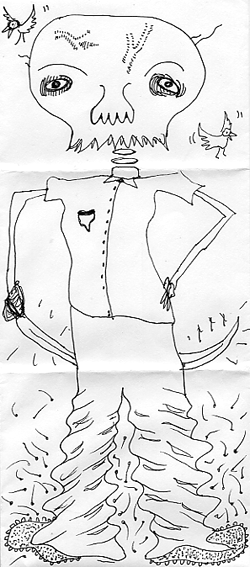 Dear Friends

Welcome to the Cubby Missalette # 15, the Exquisite Corpse Issue! Much of the material contained herein was generated at a happening that happened at our apartment on October 11, 2003 in the Mission district of San Francisco. We played games, ate strudel, drank coffee and then played more games, ate nachos and drank beer. Some folks who could not attend sent bits from abroad. The result was this fabulous piece of detritus you are now holding in your hands.

The Surrealist painter, photographer, cartographer, geographer, and encyclopedist Mame Ozenfant put it best when she wrote:

I pluck it from the
tree of life
to watch it wither
and die

it is my
farfetched
purple babe

hanging in a blackened
haze at the end

of the garden
in the purple yellow
lit light

OR:
What are underpants?
A dream in which you are falling.

What is intelligence?
An adventure from which you never return.

Many thanks to the contributors: Brian Weaver, Karl Soehnlein, Kevin Clarke, Star Morin, Jeremy Clark, Alec Way, David Booth, Jim Robinson, Jim Donnelly, Grant Inaba, Jenny Bitner, Adam Souzis, James Goode, Drew DeWitt, Nancy Thomas, Carla Hall, Antonio Belmonte, Lorna Kirwan, Bill Fisher, Josh Babcock, Gizella Peter, Dave Dunstan, Emily Davis, Cyrus Limon, Andrew Kavanagh, Jol Perez, John Boyle, David Novak, T. Mikawa, Jojo Hiroshige, Hugh McIntyre, Junko, John Clement, Kosakai, Art Pratter, Aya Ohnishi, Mark and (apologies) his friend from Pittsburgh, PA.

Extra thanks and apologies to anyone we are forgetting.

Our best,
Ben Costello
Liz Tinker


online editor's intro --->

exquisite corpse home page