True: Andrea Alciato was a 16th-century Italian scholar who authored a book of emblems: illustrated symbolic (and often cautionary) epigrams which were used as badges by tradespeople. Hereís one about fortune, with Alciatoís explanation:

Emblem 127: One Ought to Begin with Good Omens.
Something begun with bad omens does not know how to turn out well. What is conducted under a happy omen delights. Whatever you are doing, drop it if a weasel crosses your path: this dreadful beast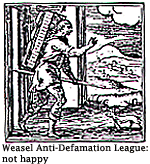 brings signs of bad fortune.

I kept this emblem in mind while embarking on a trip last weekend with my friend Molly. We were completely unprepared (including not having a destination), so we decided to embrace Alciatoís wisdom and let omens and signs decide our fortune. We were vigilant about watching for weasels.

Fortune decided that we should drive to Reno, Nevada. Fortune also decided that we should continue to Sparks, as Reno was completely booked. Interpreting signs became easier while choosing lodging. The Thunderbird Motel had a body and lots of cops in the parking lot: a sign to keep moving! Fortune declared that the Emerald City Motel was not for us, since there was a blanket-wrapped nude woman in the lobby, threatening someone on the phone: ìGive me my child or youíre going back to jail!î This was Sparksí version of a weasel-type omen, so we continued until Fortune declared that we spend the night at the Silver Club, which had a working ice machine, clean rooms and refreshing lack of human drama.

The Sparks Nugget Casino seemed unremarkable until Fortune showed us our new home away from home: Trader Dickís, a gorgeous Tiki bar with some fine electric piano and drum machine entertainment. A couple of Aku-Akus later, we hit the Bingo room with our complimentary Tiki mugs acting as our Fortune Guides from then on out. The Tikis did not allow us to win at Bingo, giving us pause to reflect upon how the path to good fortune does not necessarily include recouping monetary losses.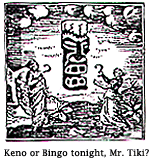 The Tikis did us good turns the rest of the trip, guiding us to Virginia City and to Tahoe. Our last night, we turned on the TV in our Tahoe motel room, and there was the Tiki episode from ìThe Brady Bunch!î This was a sign to watch the episode, eat cookies and go to sleep.

Having Fortune (in the form of the Tikis) determine our path was an ideal way for two slightly control-freaky cynics to give up control, to trust the unknown, and to accept our path gratefully.

Emblem 127B: A Quasi-Polynesian Drink Vessel is as Good as Anything Else. Begin a journey with an open mind. Donít despair if you have not prepared: procrastination can be the key to freedom. Read all signs, then interpret them to suit the situation. Beware of dead or naked strangers.

Thanks to Molly, Dick, and www.mun.ca/alciato.


By Becky Haycox