REPTIEL's Audio Vérité Series is a vehicle for the band's spontaneously produced music recorded initially at their rehearsal space. Most of the songs come from impromptu performances of improvised music never played before and perhaps never to be played again. Others are segments of jams or other sounds made at rehearsal, looped and/or run through effects, or not. Some of these rehearsal recordings also may have overdubs added to them. The end result is Finished Product, or FP. (The concept of audio vérité is taken from Neil Young, who used it to describe the making of his album Tonight's the Night).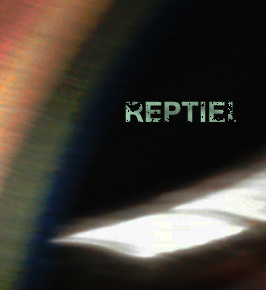 Offerings
[mp3]
Crow Chime [mp3]


60 Species of Short-Faced Kangaroo

[mp3]
Floating Profile [mp3]
The Domesday Machine [mp3]
Whitest Bicycle [mp3]
FP MP3s are free for download here, but if you want to support Cubby Control Records, you can purchase the MP3s via
iTunes
,
Napster
,
Amazon MP3
, and most other MP3 stores. Also, FPs 1-3 are available together on cassette with an extra track not available anywhere else. Purchase your copy
here
.