The Cubby Creatures' performance of
Jesus Christ, You're Crazy
on May 9, 2003, was an important and memorable evening for two reasons: it was the first and only time the Cubby Creatures performed the legendary rock opera/song cycle/post-ironic parable, and it was Karl's last show with The Cubby Creatures. The Cubbies played two sets, the first being their presentation of
Jesus Christ, You're Crazy
, which was a stripped down, bare-bones version of the rock opera, with Karl doing narration and The Cubby Creatures playing ambient music in the background during the narration; and the second was a set comprised of songs that the Cubby Creatures felt could never be played again without Karl as well as songs Karl wanted to play one last time. The pictures below are from the throughout evening.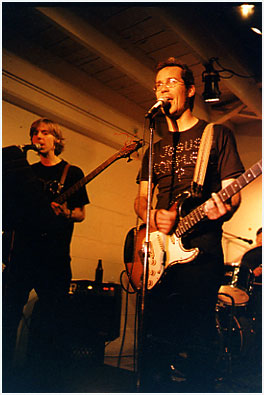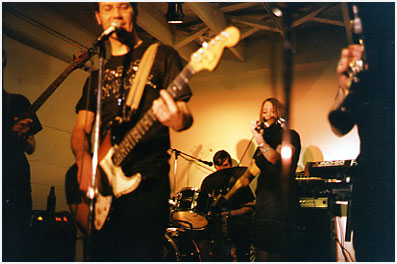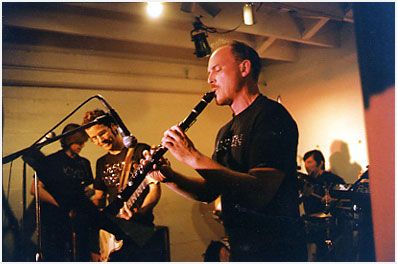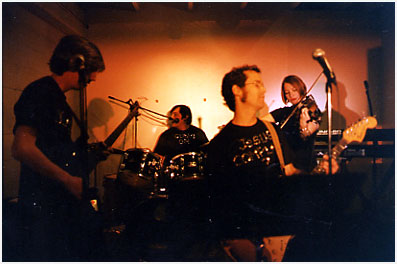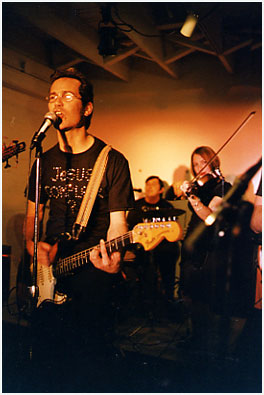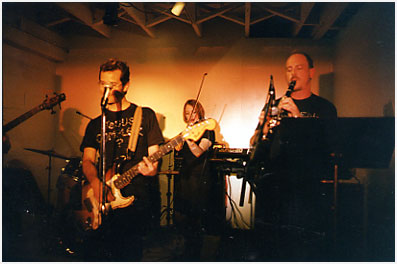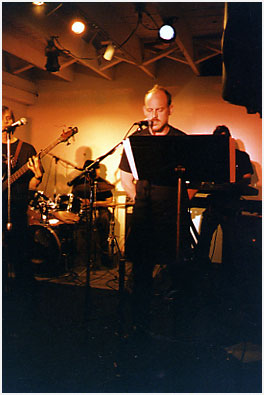 From the program produced for the only performance of Jesus Christ, You're Crazy on May 9, 2003...
For almost six years, The Cubby Creatures have threatened to write a rock opera called "Jesus Christ, You're Crazy." We had the basic one-line concept and a few song titles, but everything else was up for grabs. Though we managed to create other spectacles over the years, like "The World of Tina" and "A Telethon for the Benefit of Suzie," "JCYC" never quite got going. Every time we tried, we wound up with so many ideas that the whole thing would inevitably collapse under the weight of good intentions. But when Karl announced he was leaving the band, it seemed like it was now or never for "JCYC."
The version of the show you're seeing tonight was pulled together over a handful of rehearsals in a couple of months, and represents the first of what we hope will be several incarnations, each more developed than the last. Eventually we'd like to do this with actors, lighting design, sound effects, costumes, projections, puppets, loaves and fishes, and more. We'd love to hear your feedback, and we welcome your participation.
"What I think is that what Jesus had to say was actually pretty revolutionary at the time, and that his teaching still forms the basis for some very positive things, like the Civil Rights Movement, and that ideas like love, forgiveness, helping the poor and the sick, not judging other people, giving up materialism, etc. are some pretty good ideas. I personally think there is an important distinction between Jesus, the person/philosopher/mythic hero, and the religion that claims to follow his teachings. And I can understand being anti-Christianity about as much as I can understand being anti-Islam or anti-Judaism or whatever. Or maybe even more, since it is the hegemonic religion in this country, the religion of the global colonialists, etc. But being anti-Jesus doesn't really make a whole lot of sense to me. Always seemed like people were putting the blame on the wrong person. That's just my own take on it." -- Bill Fisher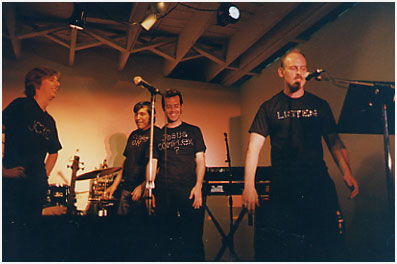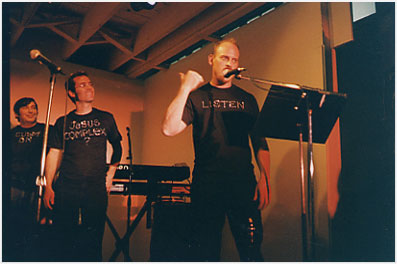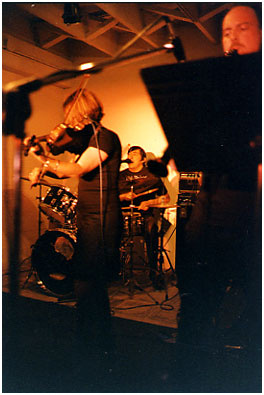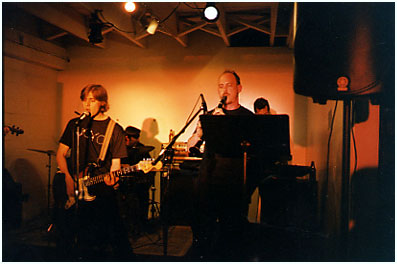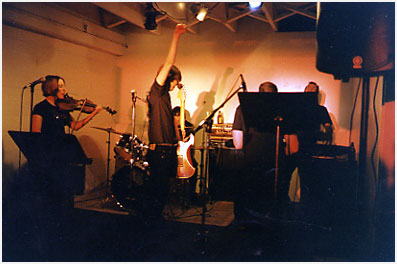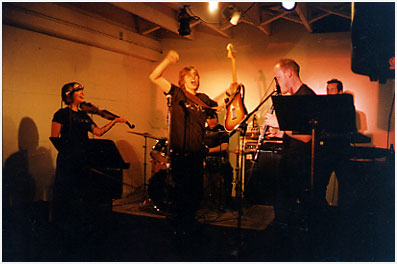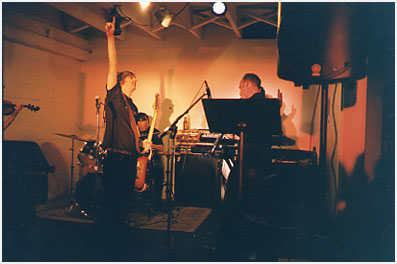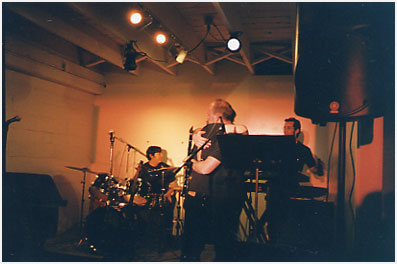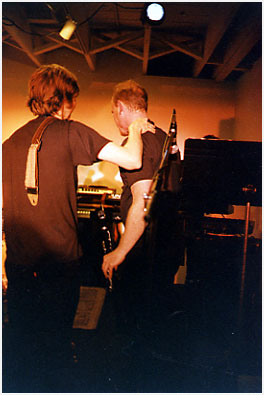 Emily Davis :: violin
Bill Fisher :: guitar, keyboards, bass, vocals
Jason Gonzales :: drums, vocals
Karl Soehnlein :: clarinet, narration
Brian Weaver :: bass, guitar, vocals
Songs and story :: The Cubby Creatures
Text :: Karl Soehnlein
Thanks to:
Kevin Clarke, Monique Jenkinson, Lorna Kirwan,
Cyrus Limon, Alissa Mach, Jol Perez, The Shimmer Kids