CCR News 2016
October 31, 2016:
Happy Halloween/Samhain/Día de los Muertos!
Coinciding with the one-year anniversary of the release of
Hobbitozz ... A Land That Never Was
, the first of REPTIEL's series of albums taking place in the Hobbitozz universe, Cubby Control Records presents the
Hobbitozz website
.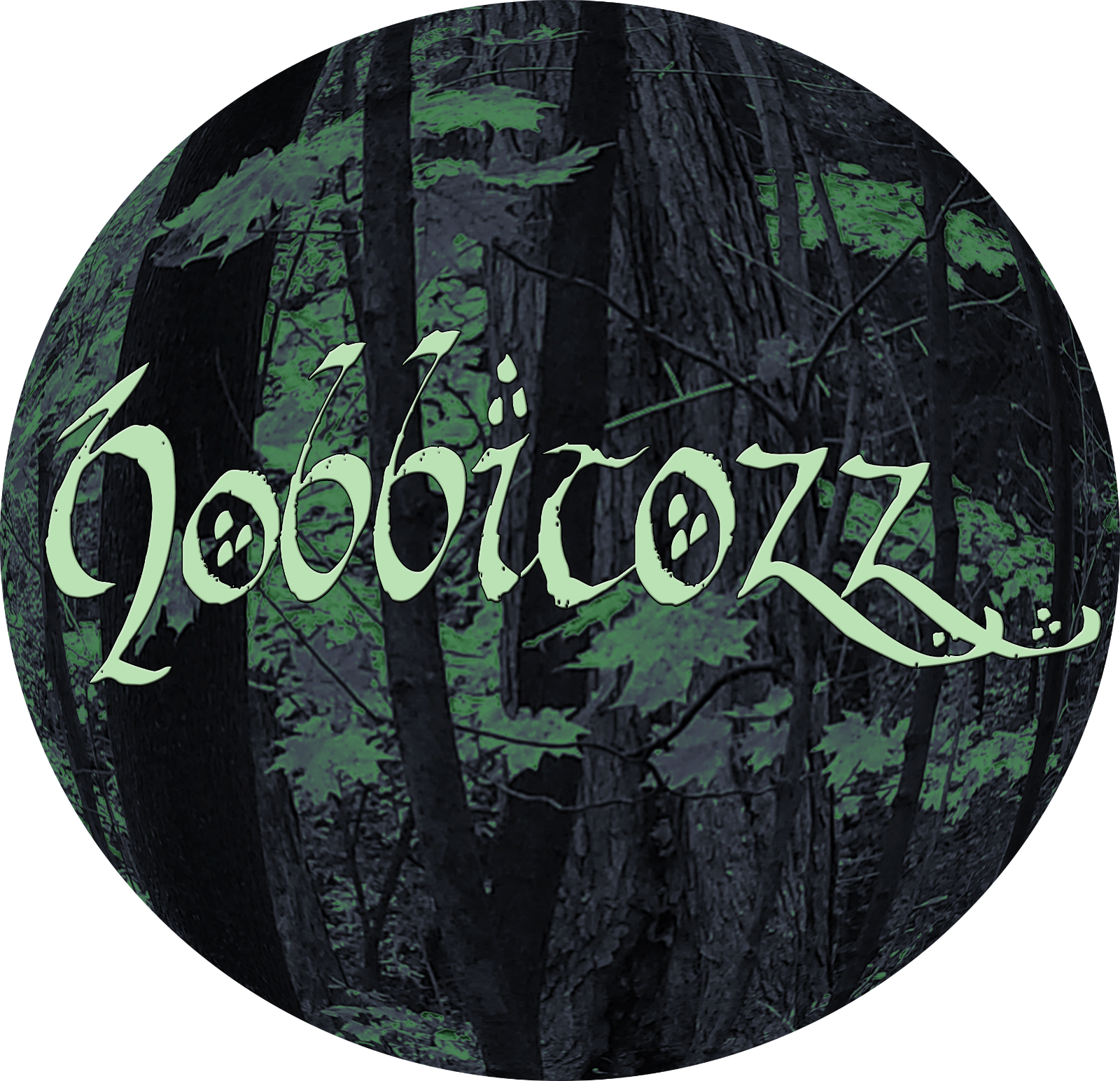 The songs from the album, along with artwork produced by a number of different artists, each creating their own visual interpretation of a chosen song (or songs) from the album, are accompanied by lyrics and other background information providing a broader view of the Hobbitozz universe as envisioned by REPTIEL.
Additionally, a print zine version is available for purchase...
http://cubby.net/ccr/hobbitozz_buy.html
September 16, 2016:
Out today on Cubby Control Records:
Spacegod Pills
by
The Druggles
. At long last, the album long thought lost, never to see the light of day, has been recovered, remixed, remastered and replicated. Read the full story below.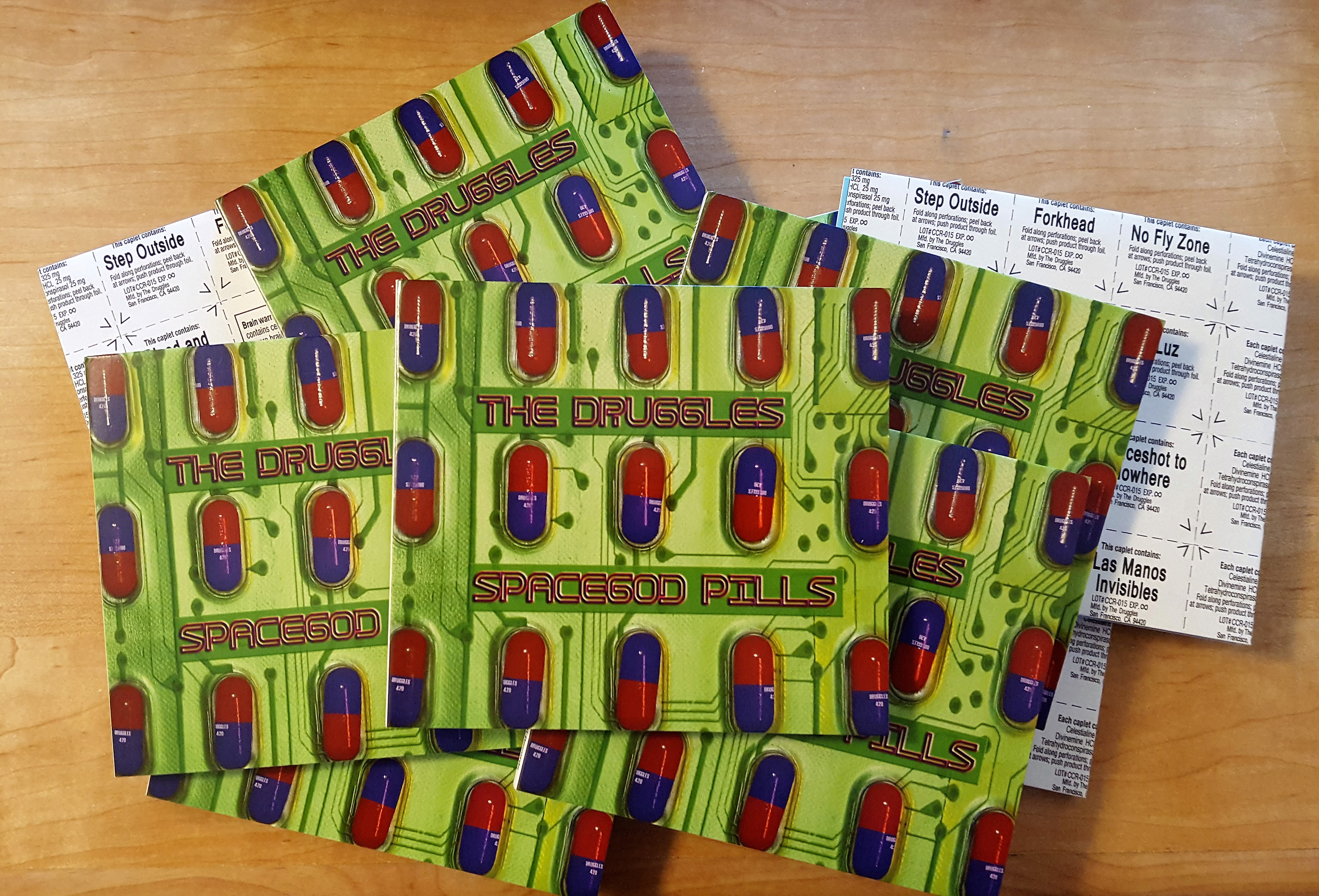 THE DRUGGLES STORY
If you lived in San Francisco in the early- to mid-aughts, and don't remember
The Druggles
, then you were not part of the underground Garage-Prog/Conspiro-Rock scene. The Druggles ruled that scene with their particular insight into conspiracy theories and their definitive Garage-Prog style.
The Druggles began as a Beatles cover band, replacing the Beatles lyrics with their own lyrics about drugs and conspiracy theories. The Druggles name came from a discussion about
Frankfurt School
honcho
Theo Adorno
and Dr. John Coleman's premise that Adorno actually composed all the Beatles tracks (even though he died before
Sgt. Peppers
, but that still credits him with
Revolver
,
Rubber Soul
,
Beatles for Sale
,
Help!
, and a slew of amazing singles such as "I Feel Fine," "We Can Work it Out," "I'm Down" "Day Tripper" and his best evs hit: "Paperback Writer"). As Druggles lead singer Doug Welch was heard to declare during this discussion, "God, that guy was indeed the best songwriter outta the Frankfurt School. I mean have you ever heard
Hannah Arendt
's shitty singles? And
Herbert Marcuse
's foray into surf rock was completely forgettable, but otherwise he did some good writing while at Santa Barbara."
Eventually The Druggles began writing their own music, narrowing the subjects of their songs to U.S wars for money and oil; the influence of fraternal organizations, political think-tanks, and intelligence networks on contemporary and historical events; economic totalitarianism; faked space explorations; and the worldview forced upon humans by government, media, and religion.
By the late aughts, after The Druggles had recorded the songs that would comprise
Spacegod Pills
, Welch claimed to be seeing Men in Black at Druggles shows. Soon he was not even showing up for rehearsals, afraid to leave his house, reporting that he had been abducted by government agents and warned not to sing Druggles songs anymore.
Fearing for his life, Welch left San Francisco (after the infamous "
Walkout Show
," at which Welch, halfway through the show, jumped off the stage at the Make Out Room and fled the club yelling "They're here, they're here!"), and moved to Tucson, Arizona. Rumor had it that he lived in an aluminum foil-lined cave in
Saguaro National Park
, and according to an individual who lived in a neighboring cave at the time, "He was working on a homemade
OVNI
, whatever the hell that means!" Coincidentally, there was band playing in Tucson at this time called Otto and the OVNIs.
A year after moving to Tucson, Welch returned to San Francisco convincing The Druggles they had to record one last song, the track "Las Manos Invisibles," written by Druggles guitarist Alec Way. The next day, early in the morning, Welch knocked on the door of Druggles bassist Brian Weaver and told him to lock the
Spacegod Pills
and "Las Manos Invisibles" masters in his safe. This is the last any member of The Druggles would see Welch. A mutual friend of Welch's and Jason Yakich's (lead guitarist of The Druggles) who lived in Tucson reported meeting with Welch at a bar and Welch told him he was headed to Mexico. No one has heard from Welch since.
The master tapes given to Weaver have their own story. After Welch stopped by Weaver's home (known as Cubby Control, since it was, and still is, the headquarters for all things Cubby), Weaver threw the master tapes into a safe. A couple years later (not long after starting Cubby Control Records), wanting to release the album, he attempted to open the safe but could not remember the combination. After numerous attempts, Weaver gave up, hoping he would eventually remember the combo. Then last year, the combination came to him in a dream (a really strange dream, Weaver claims, which involved traveling to a planet called Progkp). After retrieving the master tapes, Weaver was then able to work with recording engineer Jai Young Kim (JYK) of
Feast or Famine Records
to prepare the album for release. (JYK was the original producer/recording engineer of the
Spacegod Pills
album.) Ironically, the combination to the safe was simply 6-6-6.
Weaver acknowledges that the lyrical content of the music may bring unwanted attention to Cubby Control Records, but he's willing to take the risk. As he stated in an interview with
Roll a Stoney
, "I've been wanting to go to Mexico for a while now to look for Doug, so this could be the opportunity."
September 5, 2016:
The Cubby Missalette/Cubby Control Records at the 2016
San Francisco Zine Fest
...
September 3, 2016:
Long time, no hear, I know, but Cubby Control Records is back in action with three new products to tell you about. These will all be released tomorrow, Sept 4, at the
San Francisco Zine Fest
, "Northern California's oldest and largest DIY publishing festival," which takes place in the County Fair Building in Golden Gate Park...
Spacegod Pills
by
The Druggles
: At long last, the album long thought lost, never to see the light of day, has been recovered, remixed, remastered and replicated. As of now only physical copies are available and there is no Web presence for the album, so the only place to purchase it will be at the Sept 4 SF Zine Fest. But the CCR Web site will be updated in a week or so when it is available for purchase online in physical and digital formats.
The Hobbitozz Zine
: Earlier this year a number of artists were asked to provide visual representations of the songs from the REPTIEL album
Hobbitozz ... A Land That Never Was
. the band's psychedelic prog rock fairy tale that takes place in a fantasy world somewhere between Middle Earth and the Land of Oz. In
The Hobbitozz Zine
the artwork is presented alongside the lyrics and supplemental information about the Hobbitozz universe, as conceived by REPTIEL. Both a physical zine and Website have been created to present the artwork, lyrics and story. Only a few physical copies of the zine will be available for purchase at the Sept 4 SF Zine Fest. But when more copies have been printed and the Website is up and running, you'll be the first to know.
Cubby Missalette #23
: It's the 23rd issue, 19 years in the making, featuring the themes "Where Are You Now?" and "Enduring Enigmas."
The Cubby Missalette zine
, first published in 1997, was conceived as a refuge, platform, play space and grow house for radical thought, challenging imagery, and psychedelic vision. It was designed to be a lifelong project, periodically revisited, chronicling the ever-unfolding Nao, utilizing whatever materials and talents happen to be handy, and bringing together a chorus of voices all testifying to the zeitgeist and prescribing good medicine for humanity.
Missalette 23 will be released on Sunday, Sept. 4th at the
SF Zine Fest
. We'll have a stack ready for you...along with a mindboggling array of back issues and Cubby Control Records releases to delve into! And of course we'll send out a link to the online edition of Missalette 23 when it becomes available.
Read the SF Zine Fest interview with the Cubby Missalette here:
sfzinefest.tumblr.com/post/149717094939/
January 27, 2016:
A new year means new music from Cubby Control Records. Not as much was released in 2015 as intended, but it was still a good year with the releases of REPTIEL's
Audio Vérité Series: FP 3
free digital download; REPTIEL's
Audio Vérité Series: FPs 1-3
cassette
; the
Last Snowman
CD-R by Gnom i Snegovik; and of course REPTIEL's
Hobbitozz ... A Land That Never Was
on
CD
and the
Songs from Hobbitozz
cassette
released in conjunction with Wiener Records.
In 2016 we should finally see the release of
Spacegod Pills
by
The Druggles
;
Jesus Christ, You're Crazy
by
The Cubby Creatures
; and
Mystirios Anruf
by
Gnom i Snegovik
. And maybe if I'm really ambitious, I'll initiate the next
Cubby Preachers
: #6.
Also in the works, A Hobbitozz Web site which will include artwork from Bay Area artists depicting individual songs from the album, lyrics, and more insight into the story. AND,
REPTIEL
is in the studio recording the follow-up to Hobbitozz,
(The Platnet of) Progkp
, as is
Aero Dualities
, recording their debut album.
Well, those are the
known knowns
and the known unknowns. But there are also unknown unknowns. In other words, who knows what else may come across my plate. Tomorrow never knows and time will tell, but
there's always now
to begin your life's masterpiece.
--Brian
CCR News from 2015 -->